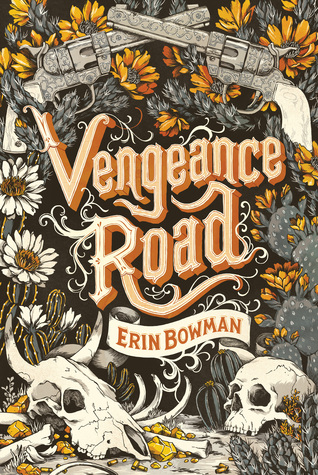 Revenge is worth its weight in gold.

When her father is murdered for a journal revealing the location of a hidden gold mine, eighteen-year-old Kate Thompson disguises herself as a boy and takes to the gritty plains looking for answers—and justice. What she finds are untrustworthy strangers, endless dust and heat, and a surprising band of allies, among them a young Apache girl and a pair of stubborn brothers who refuse to quit riding in her shadow. But as Kate gets closer to the secrets about her family, a startling truth becomes clear: some men will stop at nothing to get their hands on gold, and Kate's quest for revenge may prove fatal.
This book was full of grit and violence, which was a pleasant surprise. I loved that the author wasn't afraid to kill characters off or to have really bloody battles. It made this book seem much more realistic and addicting. There was murder, deceit, revenge, action, and a bit of romance sprinkled it. When I said a bit, I really only mean a bit. The romance definitely takes a back burner to the action and the plot of this book, which wasn't necessarily a bad thing.

I liked how strong and sassy the main character was. She didn't let anything get in her way. I loved that even though she was a girl, she could still kick ass. I respected Kate a lot. My only issue with Kate was sometimes I thought her "I don't give a shit" attitude was a little annoying. However, as a whole, I really enjoyed her character.

I am undecided about how I felt towards the romance. In the beginning of the book, I was shipping Kate and her love interest like crazy. However, I quickly got annoyed with the hot then cold attitude of her love interest. I wanted romance between the two characters, but I didn't like the way it was executed. I thought the slow pace of the romance was perfect for this book, and I liked how the romance didn't take over the plot of the book. I just wish the romantic moments would have been better written and then I would have been craving more romantic moments between the couple.

The ending of this book was just straight up explosive. I was completed shocked by the ending, and I loved it! I will say that the ending was a little abrupt, but I still really liked it.

Overall, I enjoyed this book. I would recommend this book to anyone who is looking for a book with cowboys, strong women, explosive action, and a touch of romance.


4 / 5 Fangs