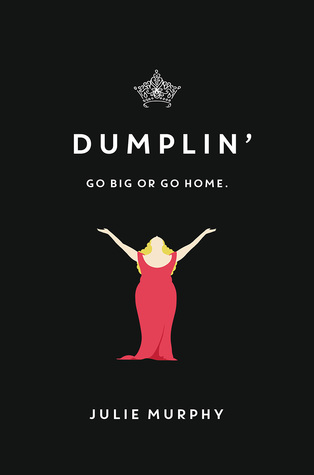 Self-proclaimed fat girl Willowdean Dickson (dubbed "Dumplin'" by her former beauty queen mom) has always been at home in her own skin. Her thoughts on having the ultimate bikini body? Put a bikini on your body. With her all-American beauty best friend, Ellen, by her side, things have always worked…until Will takes a job at Harpy's, the local fast-food joint. There she meets Private School Bo, a hot former jock. Will isn't surprised to find herself attracted to Bo. But she is surprised when he seems to like her back.
Instead of finding new heights of self-assurance in her relationship with Bo, Will starts to doubt herself. So she sets out to take back her confidence by doing the most horrifying thing she can imagine: entering the Miss Clover City beauty pageant—along with several other unlikely candidates—to show the world that she deserves to be up there as much as any twiggy girl does. Along the way, she'll shock the hell out of Clover City—and maybe herself most of all.
With starry Texas nights, red candy suckers, Dolly Parton songs, and a wildly unforgettable heroine—
Dumplin'
is guaranteed to steal your heart.
I didn't have any real problems with this book, it's just I didn't fall in love with it as much as I thought I would. I had issues connecting with a lot of the characters and I felt like the pacing of the book was a bit slow. Nothing really exciting happened in the book. I felt like I kept waiting for something big to happen, and it just never happened. That was a huge let down for me. However, I still liked this book. The main reason I liked this book was because it has a lot of great messages that I think a lot of people, especially teenagers, could benefit from.
I loved the way Julie addressed body image in this book. She created such a positive view on body image. This book teaches you not to judge others based on their looks/body and to love yourself. I liked that sometimes Willowdean would judge other people for being too skinny, but then correct herself. It showed that saying anything negative about any body type is not okay, and that you should not only love yourself but also love others.
"There's something about swimsuits that make you think you've got to earn the right to wear them. And that's wrong. Really, the criteria is simple. Do you have a body? Put a swimsuit on it."
I thought the slight love triangle was a little unnecessary, but it did add some cute fluffy moments that I enjoyed!
Even though I didn't LOVE this book, I still enjoyed it. I am happy that this book exists due to the fact that it has a great body image message. I think books like this are so important for people to read. I wish more authors would write books with as much body positivity as this book had.
3.5 / 5 Fangs