Modern-day sisters discover deadly ancient magic in book 1 of this Falling Kingdoms spin-off series!

Worlds collide in this suspenseful, page-turning Falling Kingdoms spin-off series, which explores a whole new side of Mytica—and an even darker version of its magic.

Crystal Hatcher, Modern-day Toronto: It's a normal afternoon in her mother's antique bookshop when Crys witnesses the unthinkable: her little sister Becca collapses into a coma after becoming mesmerized by a mysterious book written in an unrecognizable language.

Maddox Corso, Ancient Mytica: Maddox Corso doesn't think much of it when he spots an unfamiliar girl in his small village. Until, that is, he realizes that she is a spirit, and he is the only one who can see or hear her. Her name is Becca Hatcher, and she needs Maddox to help get her home.

Farrell Grayson, Modern-day Toronto: Rich and aimless Farrell Grayson is thrilled when the mysterious leader of the ultra-secret Hawkspear Society invites him into the fold. But when he learns exactly what he has to do to prove himself, Farrell starts to question everything he thought he knew about family, loyalty, and himself….

Fate has brought these young people together, but ancient magic threatens to rip them apart.


I honestly don't know how Morgan Rhodes does it. She continues to write books that are so wonderfully creative and addictive. This book had me up late several nights, because I just couldn't put it down. Morgan just has a way of completely captivating the reader to a point that they forget a world exists outside of the book. Well, at least that is what she does to me when I read her books.

There is only one explanation for her writing skills:

I loved the plot of the book. I never felt like there was a dull moment! There were so many twists and surprises that I didn't not see coming at all. I gasped out loud so many times while reading, and I still can't get over some of the things that happened.



My favorite character in the book was Crys. I loved how feisty, loyal, and snarky she was. I cannot wait to see her to continue to grow as a character. I also really liked Maddox. He was adorable! I am excited to see him learn more about his magic in the next book.





I had issues with two of the characters: Becca and Farrell. My issue with Becca was that she seemed too perfect. I would have like to see more sides to her character that made her unique. As for Farrell, I loved him in the beginning of the book. However, he did and said some questionable things near the end of the book. I understand why he did/said those things, but it doesn't mean I am ready to forgive him yet. I am really excited to watch him develop in the next books and hopefully conquer the evilness that he has to deal with.





The romance between Maddox and Becca was something I had an issue with too. At the beginning, I was definitely shipping them, but then their romance developed way too quickly. I wanted them to be together, but I wanted to be paced out more in the books. I would have liked to see their romance bloom in book two instead of in book one already. However, I do like them together and I trust that Morgan will develop their relationship more in the next book.



Overall, I loved this book. I am obsessed with Morgan's writing style and her books. This book was addictive, fun, action packed, mysterious, and gripping. I cannot wait for the next book. I wish I had it right now. I am definitely in a book hanger over now because of this book.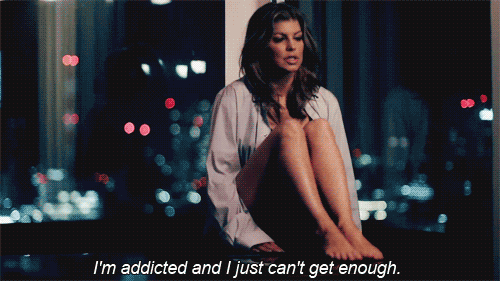 4.5 / 5 Fangs