Expected publication: October 2nd 2017 by Entangled Teen
Luke can uncross almost any curse—they unravel themselves for him like no one else. So working for the Kovrovs, one of the families controlling all the magic in New York, is exciting and dangerous, especially when he encounters the first curse he can't break. And it involves Jeremy, the beloved, sheltered prince of the Kovrov family—the one boy he absolutely shouldn't be falling for.

Jeremy's been in love with cocky, talented Luke since they were kids. But from their first kiss, something's missing. Jeremy's family keeps generations of deadly secrets, forcing him to choose between love and loyalty. As Luke fights to break the curse, a magical, citywide war starts crackling, and it's tied to Jeremy.

This might be the one curse Luke can't uncross. If true love's kiss fails, what's left for him and Jeremy?
The Uncrossing
was such an entertaining and fast-paced book. This was a book full of magic, romance, action, crime, and angst. What more could one want?!
I really enjoyed the urban fantasy world the author created. The world the author created took New York City and mixed it with fairytale elements, magic, and crime families. I found the world extremely interesting! My only issue with the world was that it was confusing to understand at first. When the book started, it felt like I was thrown into the world with little explanation of what was happening. It was hard to catch up, but once I did catch up, the book became a lot more enjoyable!
The characters in this book were all lovable in their own way. Jeremey was such a kind and thoughtful soul. I just wanted to squeeze the heck out of him! I felt so bad for him and the secret he was keeping and the pressures he faced. He was an adorable ray of sunshine, but there were times when he threw some childish temper tantrums. However, I still loved him anyway. The other main character, Luke, was such an interesting character. He had a really unique power that made him such a fun character to read about. He was a determined and loyal guy, but he was quite stuck up. It was nice that people put him in his place from time to time.
The romance in this book made my heart SWOOOON. I absolutely adored Jeremy and Luke together. The slow-burning tug and pull of their relationship killed my heart in the best way. From the first moment they first spoke to each other, I knew I was going to ship them until the end of time. The author did a great job at creating an adorable and steamy relationship between Jeremy and Luke.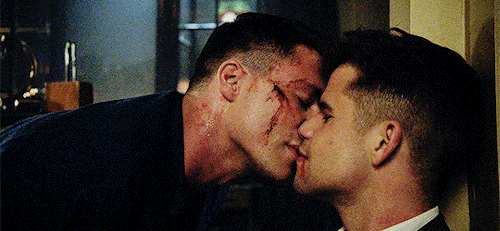 Overall, this was addictive and unique fantasy novel! I really enjoyed myself while reading this book, and I cannot wait to see what the author comes out with next!
3.5 / 5 Fangs
*This ebook was given to me in exchange for an honest review. *