Today is our stop on the blog tour for Wound Tight by Tessa Bailey! Check out this fantastic new release and grab this sexy new contemporary fiction today!
A sexy new M/M romance from New York Times Bestselling author Tessa Bailey

When CEO Renner Bastion walks into a room, everyone keeps their distance. Well, everyone but the sarcastic, tattooed, Boston-bred security guard whose presence has kept Renner in New Jersey longer than intended. As if the unwanted attraction isn't unsettling enough, Renner finds out his protector isn't as unavailable as originally thought.

Milo Bautista just came out to his wealthy, ultra-confident boss, a man he secretly respects and admires…in more ways than he'll admit. Worldly, experienced Renner would never look in his direction, let alone share some of that confidence he wears like a cloak, so Milo has set his sights on someone else to be his first.

Until Renner offers him private lessons in seduction...
DANG, Tessa Bailey knows how to write a steamy romance novel.
Tessa Bailey has been an author I have always been interested in, but I never got around to reading her books. I have heard such great things about her books, and I finally got around to reading a book by her! I am now SOLD on her books. I completely understand all of the hype her books get!
I read this book as a standalone and I had no issues following the book even though it is the last book in a series. However, this book convinced me that I need to go back and read all of the previous books in this series!
The two main characters, Milo and Renner, were HOT. Their chemistry was literally palpable. Their tug and pull relationship was so steamy! Milo and Renner worked really well together because they were almost opposites in certain ways. Renner was stern, closed off, and assertive whereas Milo was more charismatic, charming, and laid-back. Their contrasting personalities worked so well together. They had great banter because of their differences and they ended up bringing out the best in each other. I couldn't think of better pair!
As I mentioned, Milo and Renner had insane chemistry. The sexy scenes were so well written and so VERY steamy. I felt myself blush while reading some of the scenes, and it was fantastic ;). Tessa was a master at building sexual tension between Milo and Renner. The results were explosive!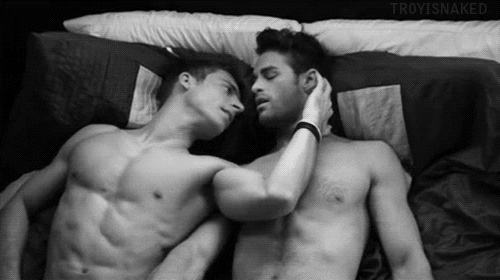 The only issue I had with this book was some of the drama. I didn't really like some of the drama that kept Renner and Milo apart. I wanted the drama in this book to have been handled differently. However, I understood why it was there because it helped feed the tension between Renner and Milo.
Overall, this was a sexy and entertaining read. If you are looking for

a M/M

romance that is full of steam and humor, then this is the book for you! I know fans of this series will love this book, and the ending of this book will fill their heart with rainbows.
*This ebook was given to me in exchange for an honest review. *
Tessa Bailey is originally from Carlsbad, California. The day after high school graduation, she packed her yearbook, ripped jeans and laptop, driving cross-country to New York City in under four days. Her most valuable life experiences were learned thereafter while waitressing at K-Dees, a Manhattan pub owned by her uncle. Inside those four walls, she met her husband, best friend and discovered the magic of classic rock, managing to put herself through Kingsborough Community College and the English program at Pace University at the same time. Several stunted attempts to enter the work force as a journalist followed, but romance writing continued to demand her attention. She now lives in Long Island, New York with her husband of nine years and four-year-old daughter. Although she is severely sleep-deprived, she is incredibly happy to be living her dream of writing about people falling in love.
Enter Tessa's Giveaway:
a Rafflecopter giveaway