Published July 5th 2016 by DAW
Being a superheroine is hard. Working for one is even harder.

Evie Tanaka is the put-upon personal assistant to Aveda Jupiter, her childhood best friend and San Francisco's most beloved superheroine. She's great at her job—blending into the background, handling her boss's epic diva tantrums, and getting demon blood out of leather pants.

Unfortunately, she's not nearly as together when it comes to running her own life, standing up for herself, or raising her tempestuous teenage sister, Bea.

But everything changes when Evie's forced to pose as her glamorous boss for one night, and her darkest comes out: she has powers, too. Now it's up to her to contend with murderous cupcakes, nosy gossip bloggers, and supernatural karaoke battles—all while juggling unexpected romance and Aveda's increasingly outrageous demands. And when a larger threat emerges, Evie must finally take charge and become a superheroine in her own right... or see her city fall to a full-on demonic invasion.
Heroine Complex
was such a unique and addictive book! I truly have never read an urban fantasy book quite like this one. I loved how the author really made this her own book with interesting fantasy elements.
Heroine Complex
was the perfect combination of humor, action, romance, and drama. I never felt bored while reading this book, and I never wanted it to end!
OKAY, I WANT TO MENTION HOW MUCH I LOVED THE DIVERSITY IN THIS BOOK. PLUS, THE FEMALES IN THIS BOOK KICKED MAJOR BOOTY AND I LOVED IT.
The main character, Evie, was fabulous. She was so sassy and easy to relate to. I loved how real she felt and how I could truly see myself in her shoes. Evie made me laugh out loud numerous times and she made me so proud with her badassery. I really like the journey she went on to discover self-acceptance in regards to superpowers.
There were a lot of side characters that were just as lovable as Evie. I liked that each side character served a role and they weren't just pushed to the side. They all had a presence and helped Evie out when she needed it.
Evie's boss and best friend, Aveda, was a little hard to warm up to. She seemed really self-absorbed and narcissistic. It was nice to see her open up and show her true feelings for Evie and some other characters throughout the book. Her showing compassion made her seem more human and easier to like.
The romance in this book was adorable and very well paced. The romance never took away from the plot and it was never the main focus of the book. It was perfectly balanced. Also, I shipped Evie and the male that she had a romance with SO FREAKING HARD. From their first interaction where they started arguing, I knew I was going to ship it. Their romance was so swoon-worthy and full of banter. I LOVED IT SO MUCH. I WANT MORE OF THEM, PLEASE?
Overall, this was an extremely entertaining and interesting book. The plot of this book was unique and it kept me glued to the pages. If you want to read an urban fantasy about kick-ass women, then this is the book for you!!!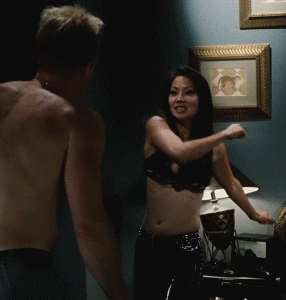 4.5 / 5 Fangs
*This book was given to me in exchange for an honest review. *