Mass Market Paperback

,

336 pages
Expected publication: February 7th 2017 by Berkley
ISBN:

0451477618

(ISBN13:

9780451477613

)
As an undercover DEA agent in the most powerful gang in Boston, Scott Donahue accepts the risks of living a double life. But when Tate Donovan, leader of the Sons of Steel Row, assigns Scotty to take his place in a bachelor's auction sponsored by his sister's sorority, he's exposed to a whole new level of danger. Even though Tate makes it very clear—Skylar is off limits—the second Scotty sees her, he's a goner. But how does he tell Sky she's falling for a man who doesn't exist?
Sky can't resist Scotty's cool confidence or the raw, edgy power oozing from his perfect body. She's always been the good girl, but he brings out the bad in her. And even though she knows so little about who he really is, Sky's willing to take the biggest risk of all. But putting her heart on the line is no guarantee that Scotty won't slip through her fingers...
I haven't read the previous books in this series, but this book sounded too good to pass up! I am glad I decided to give this book a try because it turned out to be a sexy and entertaining book. I think this book can be read as a standalone, but it would be more enjoyable if you read the other books in this series first. Even though I read this book as a standalone, I do plan on checking out the other books in this series!
I was surprised with how gritty and violent this book got. The author really didn't hold back on exposing the dangerous life the Sons of the Steel Row lived. I thought the darker gang aspects of this book added a very thrilling element. In most books, I'm not worried about the safety of the main characters because authors typically don't kill the main characters. However, with this book, I was genuinely afraid for the characters because this author wasn't afraid to put her characters through the ringer and back. That added excitement to the book but it also made me panic a lot. I loved it!
Scotty was a sexy and alluring character. I admired his loyalty to the people he cared about and how he genuinely wanted to try to do what was right. My only issue with Scotty was how protective he was of Skylar when he barely knew her. His protectiveness was sexy at times, but it then it would feel a little overwhelming at other times. Skylar was a smart, strong, and fierce woman. I appreciated how Skylar was really passionate about everything in her life and put her heart and soul into everything she did. Skylar worked hard for what she wanted and I was rooting for her the entire time!
I liked how important the side characters were to this story. The side characters all added something unique to the story. I grew to care for all of the side characters! I wanted to slap myself for not reading the previous books in this series because I wanted to know more about those characters.
The romance in this book was full of steam and passion. I loved the chemistry Scotty and Skylar had. I thought their personalities worked really well together and that they were good for each other! The entire time I was reading the book, I was crossing my fingers in hopes they would get their happily ever after! The main issue I had with the romance between Scotty and Skylar was that it developed too quickly for my taste. Their romance felt a little rushed to me, especially in the beginning. Their initial interaction and date seemed almost forced because it all happened so quickly. I had a hard time believing how quickly they fell for each other. All that being said, I do still think Scotty and Skylar worked well as a couple and I do ship them!
The sexy scenes in this book were HOT! The author sure knows how to create sexual tension! I felt like I needed to fan myself off while I was reading the sex scenes! Even though those moments were EXTREMELY steamy, I felt like there were almost too many sex scenes in this book. The sex scenes were really well written, so I'm not complaining about that, but I do think this book could have done with a sex scene or two cut out.
Overall, this was a seductive and gritty novel. I would recommend this book series to anyone looking for a smutty and dark novel. The ending of this book left me extremely excited for the next book in this series! Bring on the next sexy book!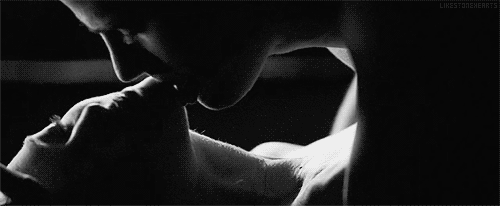 3 / 5 Fangs
*This ebook was given to me in exchange for an honest review. *